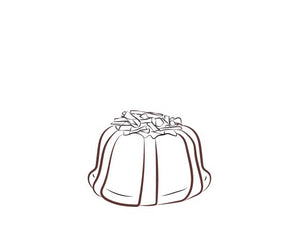 Sold out for nationwdie shipping. Available daily for local pick up. Walk in or call 903.592.6150 to place your order.
The More Amour chocolate pound cake is perfect for yourself  or, you can share the love.
Chocolate pound cake
filled with a chocolate sauce
and topped with chocoalte chips
Made with all-natural farm-fresh eggs, real butter, and real cane sugar.

No preservatives. No fillers.

Packaged in a clear container that is sealed with Janie's Cakes logo and yellow and white striped stickers.

Serves: 1 - 2

Net Weight: 6 oz

Dimension: 3" round x 3.5" high

Seasonal Item: Available January - May.