Standard Shipping Days:
Monday, Tuesday, Wednesday and Thursday.
* Standard transit time of 1-2 days. Cakes can be shipped on Thursday if they can arrive in 1 day.
Standard Shipping Method: 
FedEx Ground or FedEx Home (1 day delivery between 9 a.m. and 8 p.m. Tues. - Sat.) 
FedEx Ground or FedEx Home (2 day delivery between 9 a.m. and 8 p.m. Wed. - Sat.)
FedEx 2nd Day (2 day delivery guaranteed by 8 p.m. Wed. – Fri.)
FedEx Standard Overnight (1 day delivery guaranteed by 8 p.m. Wed. – Fri.)
Shipping Method & Delivery Timeframe Map: 
FedEx Ground or FedEx Home. 1 day transit. *Dark yellow color on the map.
FedEx Ground or FedEx Home. 2 day transit. *Light yellow color on the map.
FedEx 2nd Day. 2 day transit. *Blue color on the map.
FedEx Standard Overnight 1 day transit. *The entire map. Some rural areas excluded.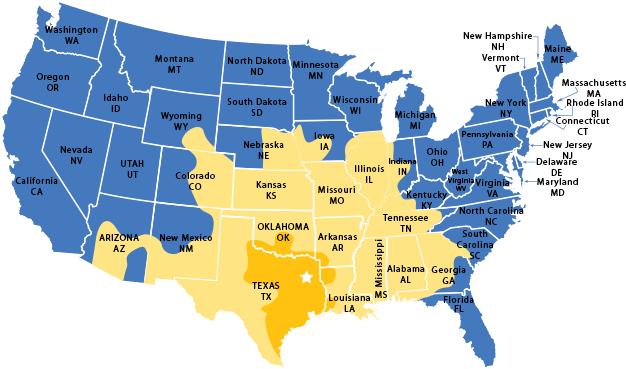 Standard Arrival Days:
Tuesday, Wednesday, Thursday, and Friday.
* Saturday delivery is available for select addresses at an additional charge. Please call 903-592-6150 for Saturday delivery.
Other Shipping Information:
Cut off time for orders to go out the same day is 1:30pm Central. Orders placed after 1:30 PM or on weekends/holidays will ship the next business day.
We ship using FedEx to all 50 states. We do not ship to P.O. Boxes.
All shipping rates and methods are quoted by zip code.
We recommend choosing FedEx ground or FedEx 2-day shipping methods when checking out for the most economical option.
If you are shipping 5 or more cakes to one address please call to see if bulk shipping and pricing is available.
There is not a signature required for delivery of our cakes. Please be aware that it is solely at the discretion of the FedEx driver where the package is left outside the recipients address.
If your cake must arrive by a certain date it is best to order early and request an arrival date 1 - 2 days prior to the date that it absolutely must arrive in case there are any unforeseen errors or delays.
We do not ship or deliver on the following holidays: Thanksgiving, Christmas Eve, Christmas Day, New Year's Eve, New Year's Day, Memorial Day, Fourth of July, and Labor Day.
To ensure freshness, all Janie's Cakes are shipped frozen. When your cake arrives take it out of the shipping box and follow any of the options listed on the care instruction card (located under the ribbon of the gift box).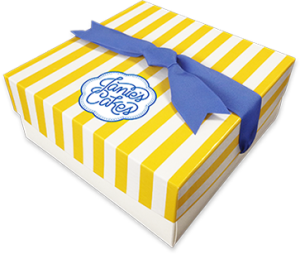 Everyone's tastes are different, and while it is rare, sometimes the cake just wasn't what you were expecting. Janie's Cakes have a signature crust on the bottom with the characteristics of the pound cake being extra dense, a little bit chewy, a little bit crunchy with an added dash of sweetness. This does not mean your cake is under cooked. Quality is very important to us and Janie personally inspects every, all natural, preservative free, cake that leaves the bakehouse. We do apologize, but we cannot replace cakes or issue refunds based on dislike of personal taste or texture.
Problems. Questions and Comments
Sometimes things happen, and we hope to make your experience positive. Should we cause a problem with your order, we will make it right. We are all human and make mistakes.
If you made a mistake and provided an incomplete or incorrect address during your ordering process, please call us right away and we will do our best to make corrections. Once cakes leave our facility, it is hard to fix problems and could be subject to additional fees.
We want our customers to continue spreading a little kindness one cake at a time. Please contact us so we can take care of you. We are open Monday – Friday from 10-5:30 CT. Please call us at 903-592-6150 or email janie@janiescakes.com