........................................
........................................
Well, let's not beat around the bush here. Janie's Cakes makes the best darn pound cakes in the world, bar none–it's just a fact. The reason our pound cakes are the best on the planet is simple: Janie, our muse and founder, would have it no other way.
    The Little Cake Shop That Grew
Janie learned her craft from her great-grandmother, "Papu." With Papu, it was all about a pinch of this and a dash of that–very little measuring, a whole lot of instinct. Janie deepened her culinary skills at the Culinary Institute of America, up somewhere in Yankee land. But Janie felt the pull of home and eventually opened her little bakery on a side street in Tyler, Texas. Wasn't long before Tyler folks were telling other folks about this all-natural pound cake that had a taste somewhere just south of heaven. That's when Janie soon found herself in the mail-order business, trucking cakes all across North America.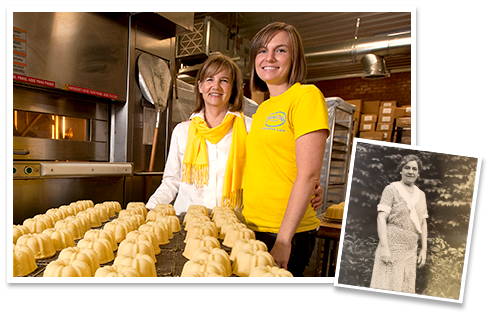 Just Old-Fashioned Pound Cake with Really High Standards
Janie is what you might call a pound cake perfectionist. That's why every ingredient is the real deal: farm-fresh eggs, creamery butter, pure cane sugar and absolutely no preservatives. Of course, Janie also has her creative bent. That's why she is always experimenting, creating quirky reinventions of her classic pound cake. Of course, this old-fashioned, all-natural pound cake still wears its heart on its sleeve and its buttercream icing in its middle–another thing that makes every Janie's cake just a bit unexpected.
.......................................................................................
Tasting Good and Doing Good
Something else you should know about Janie. She has a heart as big as Texas. Over the years she has supported dozens of local charities. Janie currently lends her personal and business support to the community based exercise program FitSteps for life. Enhancing quality of life & survival. Restoring strength & hope. A pioneer & leader in cancer exercise treatment.